2023 Toyota Tundra vs. 2023 RAM 1500

Americans love trucks, so it makes sense that all the automotive manufacturers are bringing exciting new pickups to the market, and Toyota is no certainly noexception! The new 2023 Toyota Tundra is a bold and exciting truck loaded with powerful capability and premium interior refinements. To help our Texas customers that are shopping for a new truck, we put together this convenient comparison page for consideration while browsing for their next Tundra for sale in Katy.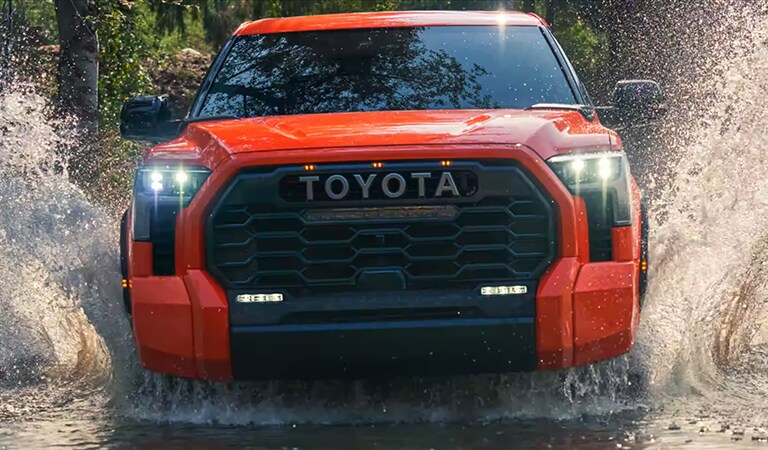 Performance Features
Tundra 583 torque (ft lbs)

vs

RAM 1500 410 torque (ft lbs)
Tundra 437 horsepower

vs

RAM 1500 395 horsepower
Tundra driver selectable suspension

vs

RAM 1500 driver selectable suspension not available
Interior Features
Tundra 5-person seating capacity

vs

RAM 1500 5-person seating capacity
Tundra standard front sunroof

vs

RAM 1500 optional front sunroof
Tundra standard wireless charging pad

vs

RAM 1500 optional wireless charging pad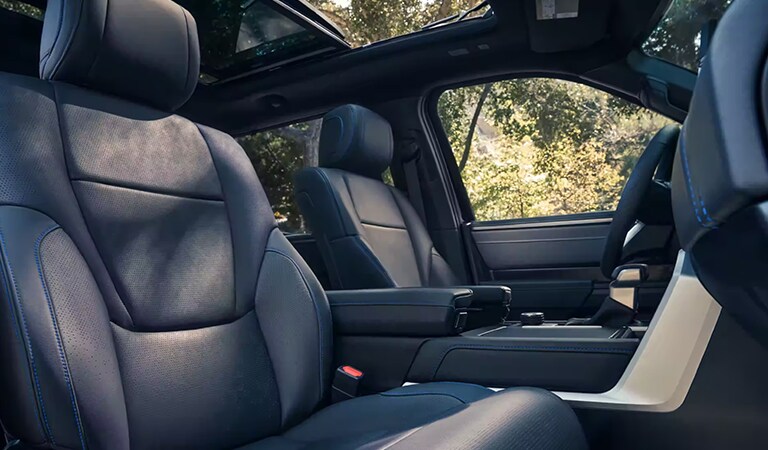 While it's definitely a battle, the new 2023 Toyota Tundra comes out on top when it comes to the areas that matter the most to our Texas truck customers. These latest Tundra pickups provide more torque and horsepower than the 2023 RAM 1500, as well as the flexibility that comes along with a standard driver selectable suspension. Both the Toyota Tundra and the RAM 1500 both are able to seat up to 5 passengers, but only Tundra comes standard with a front sunroof and wireless charging pad. When it comes to this truck comparison, the RAM 1500 simply can't compete with all of the features offered by the new 2023 Toyota Tundra.
Toyota Tundra vs RAM 1500 FAQ
How do Tundra and RAM 1500 Differentiate When it Comes to Efficiency?
The Toyota Tundra specs show it gets improved highway gasoline mileage compared to the RAM 1500 when equipped with the standard engine. The Toyota Tundra Hybrid is also now available, clearly marking Tundra as the more gasoline-efficient truck. This adds Tundra Hybrid to our lineup of Toyota alternative fuel vehicles.
Toyota Tundra vs RAM 1500 Reliability - Which is Better?
Toyota vehicles, trucks included, are legendary for their reliability. In fact, a recent JD Power press release backs this up with their industry research, finding Toyota to be among the ten most reliable vehicle manufacturers with a PP100 ranking of 168 (lower is better here). RAM has improved its rankings since the previous year, but it is still worse than the industry average of 186 ranking a PP100 score of 189.
How Do Tundra and RAM 1500 Rank When it Comes to Tech?
NHTSA safety ratings are not yet published for the 2023 Toyota Tundra; however these latest models offer many incredible safety features that are both standard and optional. Tundra improves driver visibility with a Panoramic View Monitor that displays a 360-degree view of their surroundings. Blind Spot Monitor, an Integrated Trailer Brake Controller and Rear Cross Traffic Alert are also available as options on the 2023 Tundra.
What Interior Amenities are Available for Tundra
The interior layout of the 2023 Toyota Tundra was recently updated with a rugged yet sophisticated design. Both Tundra and RAM 1500 offer interior touch screens, with Tundra also offering an optional Audio Multimedia System with a 14-inch screen. By comparison, the largest optional touchscreen for the RAM 1500 is only 12 inches.
Which Truck is Better? The 2023 Tundra or 2023 RAM 1500?
There are many options to consider when shopping for a vehicle. Tundra may be a better choice for those needing the best gasoline fuel economy, especially when considering the new Toyota Tundra Hybrid option. With its recently updated interior and larger 14-inch touchscreen, Tundra might be more appealing to our Texas customers. Because of our reputation for building reliable trucks, the new 2023 Toyota Tundra is obviously a great choice. Factor in other assets like the Lifetime Powertrain Warranty, the Toyota of Katy Customer Commitment and ToyotaCare, and this may be the best time to buy a new Tundra!