Visit the Service Center at Toyota of Katy to find out why drivers from Sugar Land, Richmond, Cypress and Houston are returning customers! 
Located in Katy, TX, our Toyota Service Center strives for excellent service on every visit! After our sales team worked hard to earn your business, let our friendly and knowledgable Service Center team show you how we keep our customers coming back to Toyota of Katy. From routine maintenance to major repair, our trained service technicians will take care of you to get you back on the road quickly and safely. It's the Toyota of Katy Lifetime Commitment to all our customers in the Katy, Cypress, Sugar Land, and surrounding areas. Call us at 832-772-1700 or request your next appointment online today! 
Coffee and refreshments are always complimentary.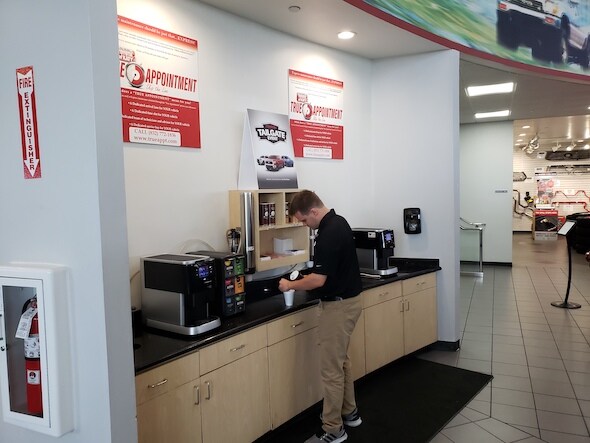 Relax in a large comfortable waiting area and enjoy a snack while you wait.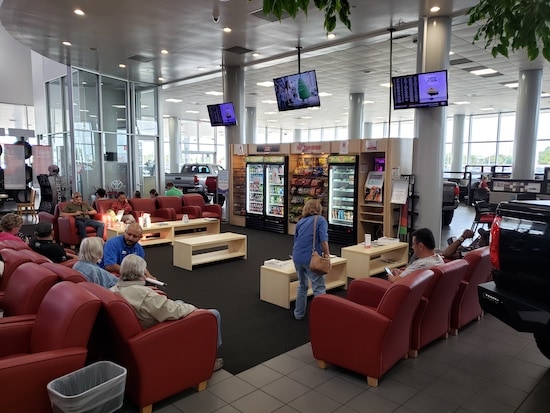 We have an enclosed service drive so you have 
comfort and convenience regardless of the weather!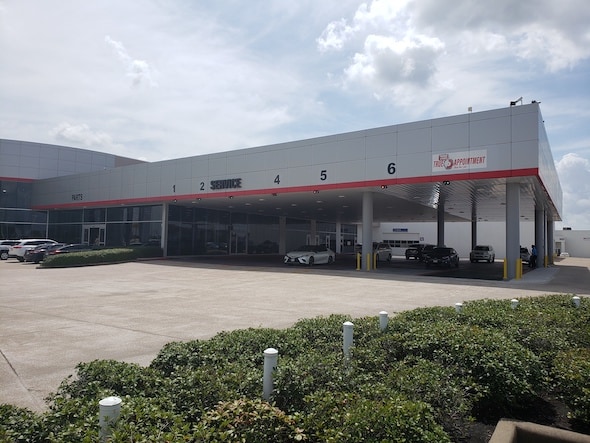 At Toyota of Katy, 
factory-trained and certified technicians
 will fix it right the first time. In addition to passing 
the rigorous Toyota Certification Program, many of our technicians are also certified by the National Institute for 
Automotive Service Excellence (ASE)
 and they use state-of-the-art equipment and tools designed especially for your Toyota as well as genuine Toyota Parts that are designed to keep your vehicle working at Toyota's high-quality levels. Call us anytime 
(832) 772-1700
Testimonials
"Hello Toyota of Katy, I just want to say Thank You for the wonderful and best dealership that I have come to experience over the years at your establishment! From the Service department to the Maintenance department to the Parts department. Thank you,Thank you and Thank all of you! For you made it possible for me to reach 302,000 miles on my 2005 Tundra and it's still running STRONG !! My truck is my bread and butter. It gets me to work and back home to my parent's farm to do work and takes my wife and I to the hill country when we get a chance for some R&R. I would like to give a special thanks to these fine folks. Service : Chad Mahaffy, Johnny Fedigan, Eddie, Steven and John. Maintenance: Raymond, Alex, Matt, Joe and Tyler. Parts: Geo and Felix. Thanks again for everything. Because of the outstanding treatment from the main two Service Advisors Chad Mahaffy and Johnny Fedigan is the reason why we also purchased a 2012 Toyota camry at Toyota of Katy and my in laws bought a Toyota Highlander. Thank You"
         -- A very happy and loyal customer ,Chris Urban.
"Camry 30-Month Maintenance"
 

- Randell - November 20, 2019

Chad Mahaffey's Service Center provided excellent service for our Camry's 30-month maintenance this afternoon. I can depend on fabulous treatment there. We have been bringing our Toyotas to Chad for seventeen years. Back then he was a service writer, and now he is the boss. Organizations that can promote able people from within give me a good feeling.




Helpful Hints for Toyota Owners
The

 most important thing you can do to keep your Toyota running well is to change the engine oil on schedule.

Replace worn out wiper blades will ensure that you have a clear view of the road under all conditions.

Periodic brake inspections at regular intervals according to your Toyota's recommended maintenance schedules insures longevity to components and safe brake performance.

Keep an eye on tire pressure - losing just a few pounds of pressure in your tires can hurt fuel economy and shorten tire life.

Read your Toyota Owner's Manual. It will tell you everything you need to know about your vehicle.
Tires
We recommend that tires be rotated every 3,000 to 5,000 miles even if they don't show signs of wear. Tire rotation can often be done with oil change intervals while the vehicle is off the ground. This can also be a good time to have your tires rebalanced. It's also a good time to inspect the tires for any damage, remove stones or debris from the tire treads, check for uneven wear by checking the tire tread depth and of course, checking your tire pressure. It is an advantage when all four tires wear together because as wear reduces a tire's tread depth, it allows all four tires to respond to the driver's input more quickly, maintains the handling and helps increase the tire's cornering traction.
Shop Tires
at Toyota of Katy Service Center!
Air Filters
Genuine Toyota air filters are engineered specifically for your Toyota to provide exceptional filtering efficiency, improved engine performance, and noise-dampening capabilities. They trap dirt and contaminants before they reach your engine, where they can cause wear and reduce performance. Replace your engine air filter every 30,000 miles or 36 months. If you operate your Toyota under special operating conditions, we recommend inspection every 15,000 miles or 18 months.
Synthetic Motor Oil
Today's sophisticated engine systems require a lubricant designed specifically for improved engine performance, increased fuel efficiency and reduced engine deposits. Many new Toyota models are certified for a new zero weight synthetic lubrication standard (SAE 0W-20). Our 0W-20 oil is low-viscosity synthetic oil formulated to provide uniform lubrication and reduce friction throughout the engine. Lighter than conventional engine oil, 0W-20 evenly and uniformly bathes your engine's moving parts, which means less wear and tear, better thermal stability and increased engine efficiency.
Need Parts?
Toyota of Katy
is a distributor of
factory-certified Toyota parts and accessories
. Genuine or "OEM" Toyota parts are specifically designed to provide the safety and service life you expect from Toyota. Genuine Toyota parts - don't settle for less. The Toyota of Katy Service Department is
located at 21555 Katy Freeway, Katy, TX 77450
and offers the following: convenient hours, genuine Toyota replacement parts and Toyota factory accessories. We look forward to serving you here at Toyota of Katy.